The Riesling wine occupies a leading position in Germany. It is considered the king of white wines. In terms of variety in aromas, longevity and proportions of German wine-growing areas.
Petershof Riesling "R" was made by Weingut PETERSHOF, which has been family owned since 1650. The company has invested a lot: time, passion and money to adopt the time-honoured winery to the conditions of the new era. In addition, time-intensive measures, such as a consistent quality-enhancing pruning, cutting out qualitatively declining old vines and setting young fields by their excellent new team in vineyard and cellar.
With that being said, rest assured that their wine Petershof Riesling "R" is a high-quality wine. A juicy apple, mango, mineral, and floral notes with a hint of vanilla. A complex, characterful and elegant premium Riesling, made from grapes from Weingut Petershof's best plots.
As a matter of fact, Petershof Riesling "R" has won a Gold award recently in America Wines Awards 2019, awarded by America Wines Paper.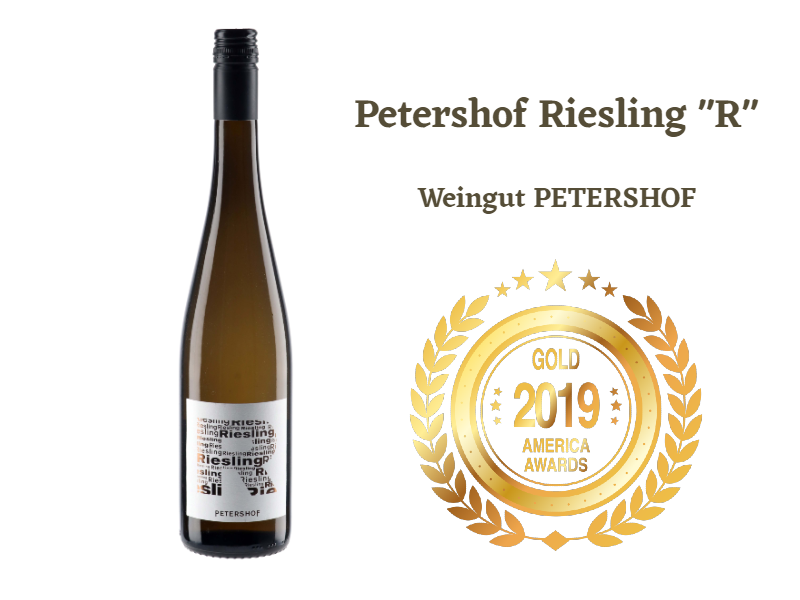 The wine is very ideal to be paired with poultry dishes and white meat. Also goes very well with hearty cheese.