Terra Creta founded by two Cretans who aimed to export top quality Cretan olive oil. Terra Creta Organic Extra Virgin Olive Oil and Terra Creta Kalamata Organic Olives have been recognized and awarded gold medal for their superb taste and aroma in a very prestigious competition Singapore Taste Awards and it's one of the best challenge for food products worldwide.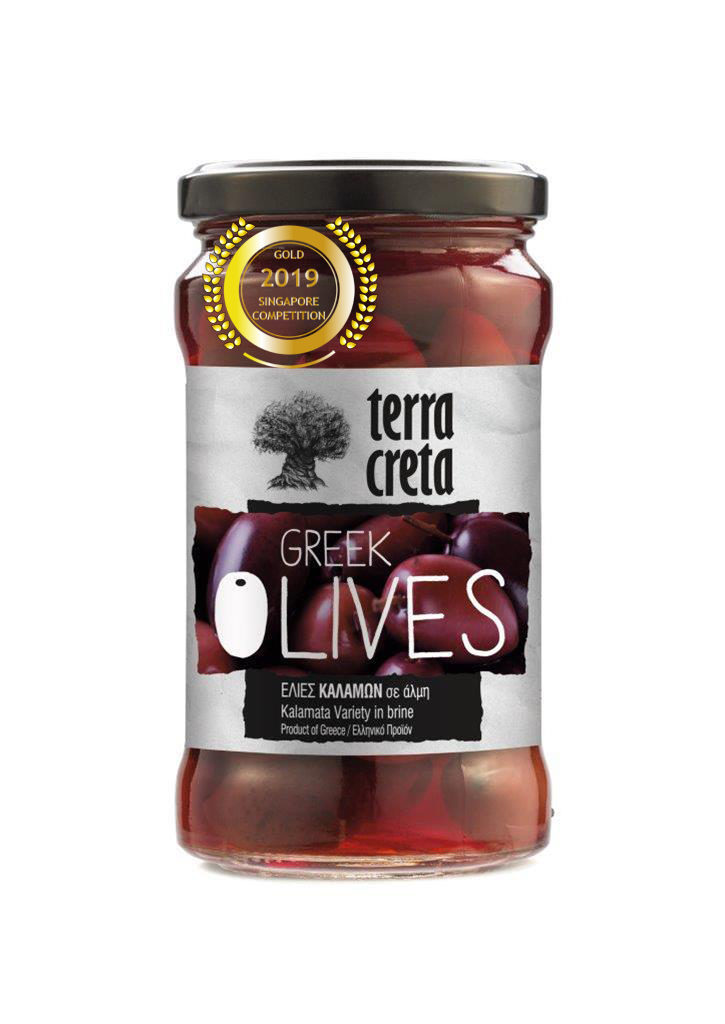 Terra Creta Organic Greek Kalamata Olives
Terra Creta Organic Greek Kalamata Olives grow only in specific regions of Greece in limited quantities. The Kalamata variety have a unique and splendid taste. A healthy choice for salads, snacks, pizzas and Mediterranean recipes.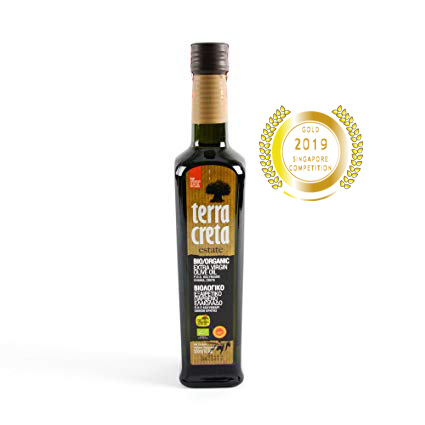 Terra Creta Estate Extra Virgin Olive Oil
Terra Creta is located in the Kolymvari region, the heart of high quality olive oil production in the western part of the island of Crete. Cooperating with more than 1200 farmers, they use a vertical production method, controlling everything from the farming of Koroneiki olives to extraction and bottling in their facilities in the certified Protected Designation of Origin (PDO) region of Kolymvari.
Terra Creta Estate Extra Virgin Olive Oil is produced from olives cultivated on the Terra Creta Estate farm located in the sunbathed mountainous and hilly olive-groves of the island of Crete. Terra Creta Estate Extra Virgin Olive Oil, has a gold-green hue, with a balanced taste and a long lasting smooth aftertaste. A 100% USDA Organic.
Dedicated to building tailor-made and long-term cooperation, the company has extensive experience supporting large retailers from different countries. Terra Creta ensures the high quality of all their products through lab analysis, organoleptic evaluation, a focus on healthy elements (polyphenols and vitamins), and an emphasis on safety (freedom from contaminants and pesticides).

The combined experience of the Terra Creta staff in Cretan olive oil production is more than 170 years. Their vast knowledge, expertise and dedication are the very core of the products they produce.
Terra Creta's cornerstone to success is its ongoing commitment to unwavering quality. The only efficient way to consistently produce olive oil of the highest quality is by implementing a holistic approach. This is what Terra Creta calls Total Quality. As a vertically organized company, Terra Creta oversee every aspect of production, from farming and olive milling to bottling and exports. Complying with international quality standards and establishing their own rigorous internal standards and procedures is our way of ensuring pure, wholesome and delicious products are always supplied to our customers.
Terra Creta Total Quality system exceeds the minimum requirements of national, European Union and international standards. They have established innovative procedures that help us achieve and maintain our extraordinary quality. Terra Creta goal is to produce the highest quality products nature can provide, improving the health and well-being of people the world over.